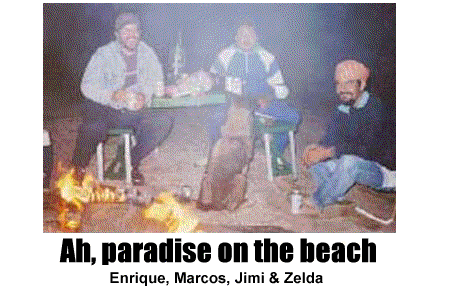 Bahia Los Frailes, Baja California Sur, Mexico --
I'm just the bus driver. I pay for the gas and get us there. That's where my responsibility

Cabo Los Frailes is a pile of ancient granite that rises 200 feet from the sea, affording an alee shelter from the ferocious winter winds that pound down from the north
ends. So, of course there is no drinking and driving despite what goes in the back. They assure me, "No, no, no…here it is no problem," in reference to any of the several law enforcement agencies that may happen to be randomly road-blocking the highway at any particular time.
But I take my designated driving responsibilities seriously, as much in fear of the rogue federale as the sudden and unpredictable appearance cows, who are free to roam where they please. (It is also the convincing reason to drive at night, only in dire situations.)
So, with the 1984 Chevy that I bought for $600 three trips to Mexico ago van fully loaded up with sofa cushions, blankets, coolers,

PK
pots, pans, food, water, stoves, tarps, tables, fishing poles, boogie boards, chairs, a futon, myself, my dog, and four or five of my Mexican friends who on their one-day-a-week off have begun to party, the house is rockin'. Everyone yapping at each other in rapid-fire Mexican slang over a stereo so loud that even if they were speaking English I would be a loss to understand.
R and B are always a safe music choice. Chicago blues. Husker Du makes them feel they are hip. Classic country, Joe Henry, Sparklehorse, Frank, Greg Brown…they are polite about it, but when I ask, "Different music?" They all fervently agree. (But If I ever have to sit through another two sides of Marcos' "Varios/Heartbeats Vol.2 again I may perhaps actively search for one of those cows.)
Someone out looking for adventure could not have a better group of guys to be hauling around. All lifetime residents of San Jose del Cabo, (with the exception of Enrique, who, best as I can decipher, a number of years ago fled Guadalajara where he had inadvertently become an accountant for the Mafia, narrowly escaping a sweeping arrest, allowing his ulcers, which he had previously been hospitalized for, the chance to subside. Even now, the seemingly tranquil Enrique is never far from a bottle Pepto Bismol.) they know this end of the Baja.
Here on the sandy shore of Bahia Los Frailes, just around Cabo Los Frailes south from Cabo Pulmo, we got the campsite with the tree. Their delight was obvious. We gathered wood, started a fire, put up the tent, got out the coolers, and berated Jimi for not buying enough beers. We probably had enough beers when we started out, but, well, you know how parties go…The desert nights in the Baja are black. The Milky Way stretches across the sky like a white highway. Mars glowed in the east in conjunction with the sun, as bright as will be for the next year and a half. With the telescope, the Orion nebula could be seen. Alpha Centuria. All the star clusters and double stars the backyard astronomy textbooks indicate can be seen could be seen. I was eager to see comet Hale-Bopp just before sunrise. Jimi, too, said he was eager and I should wake him. Alas, he was to catch the comet some other time.
Cabo Los Frailes is a pile of ancient granite that rises 200 feet from the sea which affords an alee shelter from the ferocious winter winds that pound down from the north. Around its base boulders are strewn and the water is deep and clear. It is the kind of place I look for when I am fishing for the delectable grouper or occasional snapper. Today I had four fish, lost four lures and convinced myself that the reel with six-pound test line never again leaves the dresser drawer.
"The boys" meanwhile were scampering about, screaming from the cape's acme, throwing stones, and since my attempts at providing lunch were proving futile, they were collecting the tiny sea snails which clung to the rocks. These were taken back to camp where the meat was removed. Every snail yields a half a thimble-full of edible snail. There were maybe 200 snails. Jimi, Marcos, and Juan worked diligently. I relished an ice-packed rum and grapefruit while intermittently peering through my telescope at my fishing pole stuck in the sand 100 meters away. Enrique sipped his Pepto Bismol. Tomatoes were chopped. Cilantro. Onions. Limes were squeezed. The snails were cooked Vera Cruz-style and eaten with tortillas. It was spectacular. I was chastised for my lack of fishing prowess. But everyone knew…I was just the bus driver.