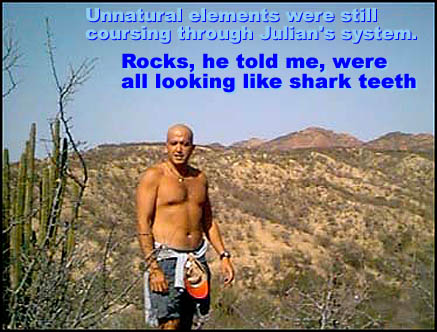 LAS CASITAS, BCS, MEXICO -- One minute the gas gauge read three-quarters full, the next time I looked, the needle was laying flat. We were out in the desert, Julian, Zelda, and myself, along with the brothers Jorge, Felipe, and Hector. While there is no place that is actually in the middle of nowhere, we were as close to the middle of nowhere as I had been in some time.
Julian and I had set off to find his friend, Jorge, who lived in the very rural area of Las Casitas and whom Julian had not seen since the last time he had been shark teeth hunting in the area two years ago. Julian was not quite as familiar with the Las Casitas area as he was with many of the other areas he has, in the past, had us tramping through, so as the van rattled, rocked, and ran roughshod over the heavily washboarded dirt roads we searched for Juan. From various inhabitants along the way, we received conflicting directions. At one of our inquiries, it was actually Juan's brother whom we came upon. He offered to take us to Juan, which is always the most effective way of giving directions in the Baja.
Jorge was picking tomatoes on the family acreage. Julian and Juan greeted each other with big bear hugs—Julian's bear hug being bigger than the wispy Jorge's, but they were equally enthusiastic. Julian, Jorge informed me, was a cabrón, or sort of brother, who, added to Juan's actual brothers, made a total of eight. There were also three sisters. Along with Juan's mother, father, and grandfather, they all lived idyllically at a lush rancho surrounded by the desolation of the Baja desert. The family farmed organically for export. When viewed from neighboring scrub-forested hills, their land was observable as a startling explosion of green. They produced a myriad of crops including: basil, sage, watermelon, corn, peppers, tomatoes, cilantro, and eggplant.
Jorge agreed to join us and went off to find a tomato-picking replacement. We went back to the family rancho where two of his brothers joined our shark teeth expedition. They told us they were taking us to the place where they find the "big teeth." And, after filling our containers with cool pristine water from their private cistern, we set out into the desert.
The roads we traversed kept me with a grin on my face--through arroyos, along ridges, winding along hillsides, all the while affording spectacular views. We would be rollicking along, kicking up clouds of dust, when an order to stop would come. One of the brothers would hop out the side door of the van to open some obscure gate, which we would pass through and continue down a new road. The roads got continuously less traveled. It was somewhere along here that my gas gauge needle decided to lay down on the E. During our raucous journey wafts of gas had filtered past me, which I attribute to the 2 ½-gallon spare gas can I carried in the van. I stopped the van and, crawling underneath it, inspected the gas tank and gas lines. I could see no obvious gas leak. Hector informed me our destination was only three or four more kilometers farther. We continued on.
Finally I was instructed to stop "here," in the middle of a long two-tracked road. The van, they told me, had to be hidden, and I was to drive it off the road, down a cow trail, until the van could not be seen from the road. The van moaned but complied. From there we continued on foot down the cow trail into and through the thorns and unforgiving foliage.
Soon the scrub gave way to beautiful arroyo, its view offering white hard-packed hillsides, fire-red higher hills in the near distance, with the Sea of Cortez visible, peeking between the farthest topography. The brothers scattered, saying only, "Don't get lost." Julian and I agreed to periodically whistle in order to keep track of each other.
Soon I was alone. Julian did not return my whistles. The only sounds I heard were the birds and the wind as it blew through the canyons. Soon I spotted one brother on the opposite hillside. Then another's motion caught my eye on the arroyo's bottom way to my right. For the next couple hours my attention was split between scouring the rocky hillsides for shark teeth and keeping track of the two brothers.
I was having no luck. During our forty-minute drive through No Man's Land, I had asked the brothers how they had happened to come upon, in such a remote location, this shark tooth mother lode. They had told me that they were searching the desert specifically for shark teeth and they just found it. I couldn't imagine. Here in the desert heat, sifting through countless rocks that were scattered everywhere, at times coming perilously close to sliding down the hillside into blood-lusting vegetation, I wondered how long someone, not finding shark teeth, would subject themselves to a search, before they deemed the place unfruitful. To me, it looked simply looked like any other inhospitable, inaccessible arroyo in the middle of the desert.
How this particular arroyo came to be characterized by its larger-than-average shark teeth is this: geologically, as the sea receded, or the earth rose, certain areas of water were cut off. It just so happened that this particular inland sea had been home to a population of unusually large sharks. When the sharks had eaten everything available, they died and their cartilage endoskeletons decomposed. The bony and enameled teeth sank to the sea's bottom. The water eventually evaporated, leaving shark teeth to bake in the sun and heat.
Julian, too, was having no luck, but he attributed his lack of success to hallucinations. He had not been to bed yet—or rather, he hadn't slept--for going on 36 hours. Unnatural elements were still coursing through his system. Rocks, he told me, were all looking like shark teeth. His shaved head was glistening with sweat. His shirtless upper torso was brutally scratched. He was in his element.
It was getting late and my thoughts were increasingly being occupied by car troubles, so we decided to round up the brothers. I could still see Felipe as a white spot on a far hillside. Jorge was still somewhere below. I had not seen Hector all day. Silently, Jorge appeared out of nowhere above me. Felipe was seemingly transported to our side in minutes. Both brothers dug through the pockets of their jeans, bringing forth shark teeth. Big shark teeth. The only shark teeth I had ever seen were small ones that were brilliant white, sometimes still enameled. These shark teeth looked like petrified wood; the enamel parts white and bone-like. I realized then that I had no idea what I had been looking for all this time. We tramped off in the direction of the road, with not an ounce of concern for the missing Hector.
Once to the car I was instructed to honk for the unaccounted for brother. Simultaneously as I honked, Hector appeared next to the van. It was as if Superman had just arrived at the speed of light. Everyone got a kick out of my surprise.
We now had to decide: believe the gas gauge or "beeline" to the nearest gas station, which was about twelve kilometers away in Santiago. Santiago it was—if for no other reason than because there was cold beer in Santiago. In a couple minutes, Julian recognized his surroundings. The shark tooth that he wore around his neck, he pointed out, was found in the area we now found ourselves driving through. The road here was wide and well traveled.
At Santiago, at the Pemex, I put 50 pesos in the tank. The needle didn't budge. My next thought was the impending 3000 miles drive back to Minnesota without a gas gauge. Somewhere on the main highway between Santiago and the turn-off to Las Casitas, the needle came to life and all was again well in the universe.
Hector and Jorge were returned to their rancho. Felipe, having changed into his "coming into town" clothes—polished black cowboy boots, clean button-flied blue jeans, pearl-buttoned flannel shirt, and a black cowboy hat--continued with Jorge and me to San Jose, where he was going to buy some shocks for his truck.
We dropped him off at Leo's Auto Partes. There was no mention of how he was to return. He did not seem concerned. He thanked us for the good time and offered me a place to stay anytime I found myself in the Las Casitas area. I had had a splendid adventure and I would love to do it again, and spend a little more time, especially now that I had a much better idea of what exactly I would be looking for. We shook hands and I told him that he could count on it.
Zelda's diary
Man, it's gettin' HOT! But I don't care. I can lie right out in the sun, no problem. I can roll around in the dust just like those local dogs. Sometimes I even go lie outside in the middle of the dirt road that runs in front of my home. Them dogs got nothin' on me.
That other dog is still around. And there is only so much human food to go around. She has stolen a lot of my tricks. She's almost got that patient, sad-eyed, just-sit-there-and-be-quiet thing going. All her little kids are gone, so now she can zoom right in to the mother lode moochin'.
Otherwise, things are pretty much the same ol' same ol'.
Peter's diary
To this northern Minnesota guy, the south Baja is getting HOT. The blue of the sky has taken on a bleached white look. The hours between two and four is a time when the streets become deserted. People tell me to wait until August when it gets hot. Someday I would like to see just how brutal it is here in the summer. I can only imagine it to require a similar stamina as living in Duluth during the winter. No matter how hot it got, one would still have to refrain from fighting the heat and find a way to enjoy one's self. In Minnesota, if you battle the winter, you will lose, and you will be bitter, and you will eventually move to Phoenix, where you will complain of the heat.
I have decided to extend my stay another three weeks until June first. The owners of the hotel have allowed me to change rooms, swapping the room I have had since my arrival--which becomes more oven-like each day due to its exposed roof--to a room in the back on the bottom level. It is slightly larger, has better air flow, and no roofs or walls that are exposed to the pounding sun.
The tourists are starting to clear out of town. No one seems the least bit sad to see them go. It is like any tourist town—locals are anxious to have their town to themselves again. It has not, however, seemed to have deterred the police from their predictable presence in the middle of the dirt roads, standing in the sun, to stop vehicles and ask for papers.
Last night I attended a little birthday party an American woman threw for herself. It was at her house, which consisted of a small Airstream over which a large palapa roof had been constructed. Also under the palapa were the kitchen, large open living space, bath and shower, and storage areas. The "house" looked out onto a very nice garden area full of cacti and flowering shrubs and sat on the side of an arroyo, affording a splendid view. As the sun set the temperature became divine and the sound of the birds mixed with the music coming from the party's boom box.
For most of the party, it contained about three dozen people, of which Paco was the only Mexican present, beside Pablo, who was working; keeping glasses filled with champagne, wine, or mineral water, keeping the ice chest full of beer, and making sure the food was plentiful. It was my first serious foray into the Gringo community of Los Cabos. These were long-time residents. They seemed to all know each other and were obviously comfortable together. They were aging hippies, mostly from the West Coast. There were plenty of ponytails on the men and lots of jewelry was worn by both sexes. There was the occasional wafting of marijuana.
As the party escalated, it grew animated, and since it was mostly Americans, it also grew louder. The alcohol seemed to be limitless. The food was exceedingly delicious and there was plenty of that also. There were three birthday cakes. It was a great people-watching opportunity. Here was a gathering of Americans I had never really witnessed before. It was a bunch that seemed way too comfortable. Leisure time was something these people seemed to have in ample supply. I was talking with one woman about books. I mentioned that she appeared well-read to which she responded, "Of course. What else is there to do? Go to the beach, play tennis, and read." I assumed "partying" was an implied activity.