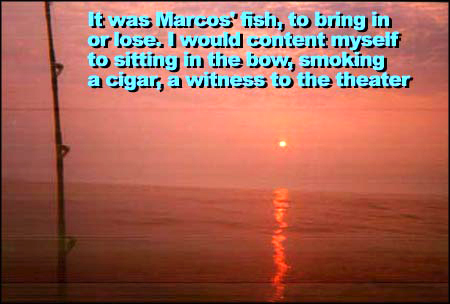 LA PLAYITA, BCS, MEXICO -- Captain Carlos asked me if I was ready to take over from Marcos to grapple with one of the ocean's most magnificent creatures. I looked at Marcos, who had been solidly planted in the plastic Corona chair for over an hour. Big drops of sweat were running down his nose and his arms and back were aching. His T-shirt was thoroughly soaked. The butt end of his fishing pole was planted firmly in the leather fish-fighting belt that he wore around his waist, while the opposite end strained toward the water, the 50-pound test line attached to what Captain Carlos figured was a 230-pound Blue Marlin. I told him I was not. It was Marcos' fish, to bring in or lose. I would content myself to sitting in the bow, smoking a cigar, a witness to the theater.
We had set off from the beach at La Playita 45 minutes before the sun rose. The ocean was smooth, steel gray and oily-looking. As the sun inched up from the horizon it was an eerie red, as Carlos had predicted it would be. For an hour he navigated the boat out into the ocean, using landmarks familiar only to him. After an hour the boat slowed and he hooked up the Humminbird portable fish-finder. It showed us to be in 250 feet of water. We were atop the famous Gordo Banks—a seamount that rises incredibly almost 2000 feet from the floor of the Sea of Cortez.
Carlos looks like one of those desert rat-kinda guys. He has unruly black hair and his eyes sport prominent crow's feet. His smile breaks wide and often. His skin is sun-baked brown and, what can be seen outside his shorts and faded T-shirt, is covered with scars. He is a Vietnam vet, "retired." Originally from the Sacramento area, he has lived in Mexico, in one place or another, for 12 years. He has lived in San Jose, in La Playita, for only the last eight months. Carlos fishes.
His boat is a funky water-tight, twenty-year old fiberglass 20-foot panga. To the four bench seats are five securely attached plastic chairs—the kind you see at outdoor cafes—with the legs sawed off. There are pole holders scattered everywhere. It is powered by a 55-horse Evinrude. On its bow is a crudely painted open shark's jaw, like what was common on the noses of World War II fighter planes. The paint is faded and peeling. There are no gimbaled drink holders. The oars are mismatched and homemade. The anchor is welded pieces of rebar. It is a beautiful boat.
Initially, we fished for bait using skirted squid lures. We quickly got a small tuna and a skip jack that were each attached to a single large stainless-steel hook and left to trail behind the boat. We continued to fish for bait as we trolled for marlin, tuna, or wahoo. Soon the area above the seamount was crowed with local pangas full of tourist fishermen. We caught a couple more fish for bait and left the vicinity.
It was a perfect day to fish—windless and slightly overcast. The red sun still bore through the haze. Carlos zigzagged and zoomed about. We saw a 40-pound tuna leap high out of the water. Porpoises were everywhere. There was a seal.
Carlos noticed one of the baitfish getting nervous. The pole to which it was attached began to rapidly shake. He grabbed the pole from its holder and held it as he steered. He jerked the rod violently several times and then, with the pole in one hand and the outboard's control arm in the other, opened the throttle wide. With one tremendous final jerk, he set the hook and handed the pole to Marcos. And the battle was on.
For over two hours Marcos fought the great fish, while Carlos kept the boat correctly positioned. Carlos was cheering Marcos on. Interjections of, "A-soo-LEET-ta" (azulita- little blue female one) and "puta madre" filled the atmosphere around the boat. For the most part, the fish stayed deep and Marcos was relegated to simply lifting him from the abyss. The marlin did make one spectacular series of leaps, which allowed us to identify for the first time, what we actually had hooked.
After several hours Marcos had worked the now-tired fish to within 100 feet of the boat, where Carlos took charge. With Marcos still manning the reel and taking up line, Carlos, hand-over-hand, slowly and methodically raised the fish. For another hour Carlos struggled with the behemoth. It was backbreaking work and his breathing soon became belabored. Eventually the marlin could be seen in the water, making slow circles under the boat. Slowly it came closer until it was at the side of the boat where it could be gaffed, and after a series of ugly boinks on the head, we dragged the fish overboard into the boat. We were content and headed back.
Back at the beach at La Playita the boat was unloaded and the fish was placed on the tailgate of Carlos' truck. Marcos stayed back with the marlin. Five minutes later the marlin was being hosed off on the patio in front of Carlos' house. Immediately, like a silent alarm had gone off, people started showing up. Carlos was well known for supplying the neighborhood with fish when there was more than he and his girlfriend, Judy, could use. One of the first to appear was Juan-- with his fillet knife. Expertly he skinned the fish and carved out five-pound chunks that were put in coolers and white plastic bags. Cold beers were being passed around. One neighbor left with the fish's entire ventral area, skin in tact, a slit made in it, which allowed him to carry it like one would a suitcase. People continued to stream in until the all the fish was spoken for. It was a festive hour.
Marcos and I stayed a while longer, sitting in the inviting dwelling, on plastic chairs, sipping cold Pacifico ballenas and gabbing. Judy and Carlos seemed to be living a sort of dream life. (Judy is from Birmingham, England—home of Led Zepplin and Stevie Winwood, so I was informed.) They were able to rent a practical little house near the beach, in front of which was parked their trailer. Inside the house were a well-equipped kitchen and a living room with a dozen fishing poles in a rack on the wall. Very little furniture. While money was an obvious issue, they seemed to be able to make ends meet, without either having to hold a job. Uncle Sam was rewarding Carlos for putting his life on the line for his country, but just enough to allow him to live somewhere else. Was it fair compensation? The answer lay deep in Carlos' frantic brown eyes.
I was tired. It was another of those fishing-on-a-half-hour-of-sleep escapades. And it was beginning to catch up to me. Macos and I stood, shook hands all around and, each with our bag-o-marlin, climbed in my van to traverse the mile of dusty road to back to San Jose el centro. On the way back I thought of a perfect life and how hard I have tried to attain it. I thought of Carlos and Judy, and their little house (where furniture was not an issue), a boat, a couple beat-up pickup trucks, $2000 worth of fishing poles on the wall, living in Mexico on the beach, money coming in, frequent fresh marlin for dinner…and then I thought of a blast in the night from a bazooka in the jungle. It takes courage to attempt to live a perfect life. How much? I can't begin to imagine.
Zelda's diary
Eat, sleep, sit patiently for food from the humans, chase the occasional alien cat from the hotel premises, go for short walks, compete with other humans for my seat in the car, sniff things, lay in the sun, roll in the dirt, sleep in the hotel office, sneak into the kitchen while humans are cooking, drink lots of water, watch for cows, ride in the car on the water, wait for Peter to get back from wherever he went, try not to bite obnoxious humans, try to get along with the obnoxious dog,
visit the nice man across the street who sits there all night, be cool, sleep under the bed, sleep in the shower, sleep on a cool cement floor no matter where I am, don't move if I don't have to, visit the house with the cats because they always give me food, be nice to the cats up there…this is my life.
Peter's diary
PUNTO PESCADERO, BCS, MEXICO--The Mexicans, in their typical understated vernacular, have a word for it: agua mala or bad water. In actuality, it is a blue jellyfish. In the hundreds of dives I have made during the four years I have been diving the Baja, I have never seen this bad water. Last week the bad water found me.
It was late afternoon and I thought I would take a quick little swim, sans wetsuit, and look for caracols for dinner. Caracols are small conchs found scattered all over the bottom of the ocean. They are delicious steamed in the shell and dipped in garlic butter. About ten minutes out, I felt a "bee sting" on my back and shoulders. I had encountered jellyfish before and they had always been no more than a nuisance. I carried on. The stinging intensified and I brushed my hand back to clear the area. Sensing no relief I eased my dive bag across my back. Within seconds my entire body was on fire. It was an unfathomable sensation—intense heat while in the cool water. I was 200 yards from shore and all of a sudden I was overcome with the dread that I might not be able to make it back.
With urgent abandon I swam between the rocks and washed up on the beach.
I approached the rest of my party who were in the shade under a tarp getting ready to wrap it up the afternoon and start preparations for dinner. I needed help.
They began to peel off blue tentacles from my skin, some being almost two feet long. My back, shoulders, upper arms and ears were covered with them. I had only aggravated the situation by trying to brush them off in the water. I had never felt such excruciating and acute pain before. A sudden wave of nausea washed over me. Lime juice was squeezed on my skin. Urine was applied. Nothing was bringing me the slightest relief. I couldn't move. It was like I was paralyzed. Something had to be done.
The Hotel Pescadero was a mile up the beach. We decided to go there for aid. At outdoor lobby, we described the situation to an elderly man behind the front desk. He slowly and deliberately reached under the desk and brought forth two bottles: ammonia and meat tenderizer. I don't know if this was any indication as to the frequency of this sort of occurrence, but it certainly reflected the immediacy of treatment. A solution was concocted and applied with cotton.
I could not see the affected area, but judging by the looks of the hotel's onlooking employees, it must have been a gruesome sight. The welts were changing color, becoming less red and more whitish. The pain, however, was not abating in the slightest. It still felt like my back was covered with wasps and they were repeatedly stinging me. But it was all that could be done.
We returned to the camp and I lay down in the shade on my stomach, motionless for two hours. Slowly the pain relented. I was able to get up on one elbow. Then I tossed a Frisbee around for a while. That night I slept gingerly.
The next morning the pain was gone, being replaced by a subtle itch. My back, shoulders, and arms were covered with raised, red welts, feeling to the touch like third-degree burns. Later that day I was able to see them in a mirror. Ugly. Looked like I had been whipped by hot barbed wire.
The following day, the welts subsided slightly and the itching intensified to mosquito bite caliber. Today, a week later, the welts have been reduced to mere red lines. They whole experience has prompted me to carry with me in my dive bag, as standard operating equipment, a plastic container filled with the ammonia/tenderizer solution.
Otherwise…Punta Pescadero is a fabulous place to swim, snorkel, and spearfish. The reefs are teeming with big cabria, triggerfish, pompano, clown hawkfish, hog and red snappers. There are, of course, plenty of moray eels. There are also giant schools of fish to be seen. All this at an easy swim from shore. It is the perfect day trip from San Jose.
Outside of the jellyfish and the marlin (see above) life is muy tranquilo here at the hotel. The hotel has quieted down as the high season ebbs and my new room has proven to be just the thing to take the heat out of these hotter and hotter May days.
In preparation for my return to Minnesota the van has new tie rod ends, a rewired stereo, and a repaired power steering fluid apparatus. It still needs a new front tire and a new fuel filter. Also, in preparation for my journey back, I need to get with it and get some serious work done. One thing about living in the Baja—there is never a lack of things to entice you away from your worktable.