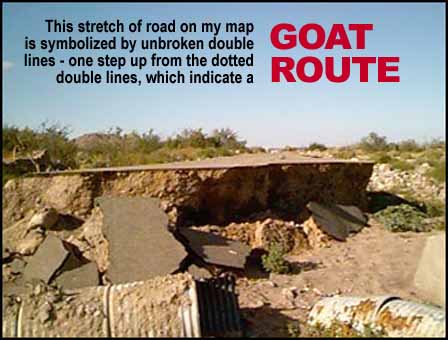 HUERFANITO, BAJA CALIFORNIA NORTE -- Captain Alex told me I couldn't do it. Using a plastic bottle cut in half, tossing salt-water, he was rinsing off fish slime from his 22-foot panga, the La Brisa. He looked up at my van and shook his head. "Not a chance. Best bet is to go back, up through Ensenada." The weathered old gringo who had ambled down the beach to the boat, a long-time friend and fishing mate of Captain Alex, agreed, saying it was maybe doable with a four-wheel. It seemed the road south of San Felipe, which is a paved road, was never actually in good shape, but the storm in September had made it worse, washing away good chunks of it. Bill, my campsite neighbor-- a methodical, self-assured spark plug of a man from Boise, Idaho—had driven the 50-mile stretch to Puertecitos just a couple days ago. "It's the sand," he said. "Some of those detours were a quarter mile through the arroyos. Through the desert. Maybe if you let some of the air out of your tires." He drove it in his big honkin' four-wheel drive pickup truck. It took him three hours to reach Puertecitos. His fishing buddy, Fritz, had gone along. Like usual, Fritz didn't have much to say much about any of it. At Puertecitos an unpaved road continues down the coast 38 miles to Bahía San Luis Ganzaga. This stretch of road on my map, is symbolized by unbroken double lines—one step up from the dotted double lines, which indicates a goat route. From there to its emergence onto Mex1, the Transpeninsular Highway, it is about 40 miles of improved unpaved road. My major reference book, The Baja Catch, suggests all areas south of Puertecitos be accessed from the south.
That's how my information-gathering sessions went— everything indicating the van would make it just fine. I could indeed let a little air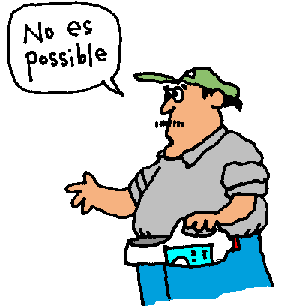 out of the tires if needed be. To re-inflate them I had with me a 12-volt air compressor. I had two spare tires. I had an extra 8 gallons of gas. Extra water. Food. Beer. I was not going to die. The thought going backwards, re-routing through Ensenada, did not make even a brief appearance. It was simply not an option. Zelda and I were driving south to Puertecitos. I don't even know why I bothered to ask anyone.
At the moment I am camped just south of Puertecitos on the deserted beach, where I will for a while spread out in solitude. The remaining 80 miles of unpaved road? I know what to expect: the same hardscrabble, washboard, moderately eroded, rock-strewn dirt road that is typical of the Baja. The locals will travel it at 50mph. I will travel it at 10mph. My biggest worry will be screws in the van unscrewing themselves.
By noon I had checked out of Rubens RV camp and was on my way south. About two miles down the road, not even out of town, I was flagged down by a couple who had gotten their new Jeep Cherokee stuck in the sand as they pulled off the pavement to change drivers. I hoped this was not some omen. I replaced him behind the wheel and rocked his SUV to freedom. I continued south. Reassuringly the oncoming traffic was steady. Whatever fate befell me, I would
not be long alone. The pavement was, as reported, in poor shape. Full lanes were washed out and potholes were everywhere, requiring a van such as mine, to travel no more than 30 mph. (I'm guessing here, since my speedometer is disconnected.) After 15 miles I came to my first detour—a 150-foot trip down, across, and up the arroyo. There were more. The traffic thinned as I repeatedly passed various campos and residential groupings, voyaging deeper into this Saharan abyss. Finally, a long-awaited quarter-mile cross-desert detours made an appearance. The road here was completely washed away. The pavement stopped, resulting in a sudden six-foot drop into the arroyo. Passage was achieved by a well-worn dirt road that sprang up next to the highway. And that was that. I was to encounter several other similar re-routings during the 80-kilometer drive and none of them posed the slightest inconvenience. I felt violated; totally underwhelmed. I was hoping for an adventure; a tale to tell. I wanted testosterone to flow. I wanted adrenaline-fueled feats. I wanted to be able stumble into a Puerecitos cantina and order up an ice-cold cervesa proclaiming, "Si, I drove from San Felipe. Si, I am a man." Instead, I got a road that rivaled the road that runs in front of my Duluth home. To these naysayers I ask: What else have you failed to attempt?
Peter's diary
Finally, out on the beach. Not a soul around. Just south of Puertecitos-- truly a god-forsaken, wind-blown, treeless, barren assemblage of humanity. Reminds me of the tundra. Ramshackle homes, ancient trailers, and abandoned buses lie helter skelter. The surrounding hills are volcanic, made up entirely of soft, eroded, red rocks. Lava flows. They rise up perhaps a thousand feet, and from their acme, I would not be surprised if one could view the Pacific, this isthmus of the peninsula being only 40 miles wide. This narrowness explains the mostly constant howling westerly wind. It gets funneled into the various arroyos and emerges on the east as gales. This wind is constantly blowing pots and pans off my table. At night the wind rocks the van. It is not hard to imagine, in the darkness, being in a cabin in the woods during a raging blizzard. Zelda, who is no fan of gusting winds, (or other noises/movements from invisible sources,) is content to spend the night in the captain's seat.
Last night had a lovely supper, thank you. Fresh sierra mackerel in a beer batter, fried plantains, hashbrown potatoes. Monk on the stereo. Sipping an after-dinner, very under-rated, buttery Mexican brandy. Smoking a ceegar. Finished up by lantern light The Ax, by Donald Westlake. Along the beach, at the high-water mark, as far as the eye can see, is firewood. When the sun slips behind the hills, (which it does early—5:30) I start and keep a fire going. At night, with the wind, it gets cold. Cold enough to require a flannel-lined denim jacket to be worn over my flannel shirt. To continue reading last night, even with a roaring fire, I had to retire to the shelter of the van.
Zelda's diary
Does it get any better than camping? Roam wherever I want. Great odors everywhere. Get to clean up the dishes. Eat what ever is left over. Lie in the sun . Lie in the shade. Bark like crazy at whatever is out there in the night. We go fishing and for walks and I get to come along. Checking out the smells. There are so many new smells. Very cool. But there are these bugs, always flying around. Landing on me. When they are by my face, I try to snap them up, but they are fast. They bug me.
But around here the air really blows. I hate it. I can feel it on my fur. Stuff moves around all by itself. Sudden noises. Noises all around. All I want to do is go hide. Inside the car is a good place, but all the noise still makes me nervous.