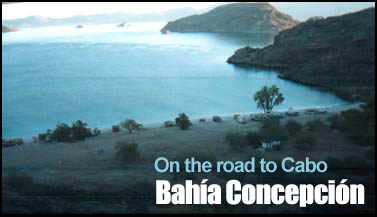 SAN JOSE DEL CABO, MEXICO -- It's quite a sight looking down from the Transpeninsular Highway onto Playa El Coyote. Situated on the beautiful Bahia Concepcion, for 17 miles the highway runs along the bay, where now every beach is packed with RV's and campers.
I picked up my guardian angel outside a Food 'n' Fuel in Montoya, New Mexico. She was sitting on a window ledge. I have no idea how many people had passed by her before she called out to me. I never saw her when I passed the window ledge as I entered the store to pay for my gas, and, maybe, a grapefruit juice, so perhaps she had just arrived.
It was a crisp, fresh late December morning. December 29th, as I try to figure back. The sky was as blue as it could possibly be. My guardian angel
You are here
glimmered as she warmed in the bright sunshine. Against the common brick window ledge, she looked completely out of place: the ornate beads, hearts, and stars that hung from her, wings opened for full flight, carrying in her outstretched arms a copper star. She leaped into my hands and I carried her to my van and slipped her pin through the van's curtains. Amid the curtain's festive blues and purples she seemed at ease.
How does one recognize the presence of a guardian angel ? It's a powerful sensation, like knowing there is gravity. It becomes more powerful as random events miraculously begin to seem less and less random; when good things abound and bad things, in time, prove themselves also to be good things. The good things begin to pile up. Songs sound sweeter. The air seems fresher. Fish seem hungrier.
I made a list of the "random" good things that have happened to me during the last three and a half weeks. It took up two full pages in my notebook. I noted the "bad" things that have happened. It was a list of two insignificant items, and I had no idea if they were actually bad things because I had no way of knowing the alternatives. The good things ranged from simply finding a pail with a handle that I had been keeping an eye out for (I found it five miles up an Baja arroyo, on top of a hill in the absolute middle of nowhere.) to completely missing a major, freeway-closing snowstorm with a spontaneous, seemingly insignificant itinerary change, (going south from Albuquerque to Los Cruces to Yuma instead of via Flagstaff and Phoenix as I usually do.)
But I think this sequence of events best verifies the undeniable presence of a guardian angel:
It has to do with my brakes. I lost the use of my rear brakes while descending from some mountains on a very precarious dirt road. At the time I thought it an extreme bout of bad luck. The fact I was able to inch my way back down and arrive safely back to the main highway, I attributed to my guardian angel. Future events would unveil it to be a bit more complicated than a simple safe descent.
Originally I had not planned to travel up the dirt road, east into the mountains. My itinerary, instead, had me going west to the Pacific, driving roads on which I would never had noticed the loss of the rear brakes. At the last minute, the thought of 200 miles of washboard road suddenly began to make me nauseous. I returned to the main highway and headed south where ten minutes later I encountered the road to San Fransisco de la Sierra into the mountains. Had I continued as planned, I would have made the five-day loop and returned to the highway. I would have continued south to La Paz. From La Paz I would have traveled more flat roads north along the Sea of Cortez until I had reached the arduous climb up and around Punta El Mechudo. The van would have had no problem overpowering the steep incline to the top. Here is where things begin to lose their randomness. For the first time in days, I would now been required to use my rear brakes. Viewed from the crest, the shoulderless dirt road dropped out of sight, snaking down, clinging to the canyon's wall. As it was, even with my rear brakes intact, it was a perilous, nerve-wracking descent. Had I not lost my brakes previously, I would for the first time, have been aware of a severe brake problem. Now, however, it would be during an uncontrollable slide with the front brakes locked; the van, absolutely, I have no doubts, going straight over the side. The image is enough to keep me awake at night, sweating.
Ramifications of that simple and last second decision to abort the planned trip around the Baja's Vizainco Peninsula continue to pop up unexpectedly. The truth to the beating-of-a-butterfly's-wings-can-be-responsible-for-a-hurricane-on-the-other of-the-world adage suddenly seemed more than a crass truism.
For now my guardian angle hangs peacefully from the curtain in my van, content to watch over me as long as she deems me worthy. She will remain there, I think, until I pass her on, perhaps to someone in dire need of a guardian angel. Guardian angels admire that sort of thing.
Zelda's diary
Some human is in my seat! Oh, sure, he lets me share it with him—I get the window—but hey! I need room to operate! I gotta be able to look out the front, shift to the window, hang out, sniff the air…There's a lot of stuff goin' on. There's cows to detect! I guess I gotta just deal with it.
OK. We get somewhere and there's another dog. She didn't like me. Bit me, in fact. What the…?! It's so feral. For a while I just sat in my seat looking out the window. Eventually, we got along just fine. I was extra sweet to her humans and they made the other dog like me. After that there was no problems. I lay on the beach and she chased things the humans threw into the water. Getting wet…I just don't see it.
That night I heard those same dogs that I heard before. They were barking. I think they wanted me to come out there. Peter woke up and told me to stay. That means I can't go anywhere until he says its OK. I didn't sleep much. Just kinda lied there. I could always sleep in the day.
We went somewhere again. This time I got the seat to myself. The new human was sitting in the back. I think he was sleeping. Who would want to sleep when there is so much to see? He's gonna miss everything!
Then it was just me and Peter again. That's the best way. But I didn't get to get out of the car all day. I wanted water but I'm afraid to go back there and have a drink when there might be something to see. Even though it was dark, I could smell those cows out there. Lots of them. I had to bark anyway. I know they can hear me. Gotta let 'em know we're coming through!
Peter's diary
After leaving San Ignacio on Thursday with a new rear brake line, I went 40 miles to a roadside tire repair shop in Mulege where I had a new fuel filter installed. Mulege is a charming little town of 3000 nestled along the River Mulege amid a oasis of palm trees. By 4 p.m., I was settled in for the night at a sweet little beach a half mile out of town. The wind howled. There was one other camper pickup truck. I did some fishing, with no success. In the morning I fished, again unsuccessfully, and leisurely headed south. I was in no hurry. I was planning to only travel around the corner to Bahía Concepción. I had a lot of work to do and needed a good solid 24 hours in one place.
In the past I have always bypassed Bahía Concepción, but have never ceased to marvel at its Caribbean appearance. The protected white sand beaches that are scattered along the length of it, all accessible from the highway, are lined with palm trees and palapas. They are also always packed with RV's and campers. If I was ever to check the place out, this might be the perfect time; the perfect place to get some work done. Pulled into Playa el Coyote and squeezed into a spot between a VW camper van and a camper pickup. I set up camp under a cute little palapa and took the Prijon kayak for a quick spin. Getting in, I rolled it in three feet of water, much to the delight of a bunch of kids running down the beach. After a quick hour paddle I returned to a concerned group of parents. Seems the hounder snapped at one of the kids. I told them it wasn't unheard of. Usually when it happens it is to kids that have pulled her ear or teased her. The kid vehemently denied doing either. Later the neighbor mentioned the rambunctiousness of the kid. After all our camping at isolated spots, the dog was obviously nervous, suddenly finding herself around so many people. That night in the dark, she barked and growled continuously at people meandering about with flashlights. This was not the place for Zelda. We left at sunup the next morning, still looking for a place to sit tight for a while.
South of Loreto the road makes a scenic ascent— in my estimation, the most scenic five-mile stretch of the entire Transpeninsular Highway— involving a countless number of switchbacks along the side of a sudden and rugged arroyo, climbing high above the Sea of Cortez. About ¾ of the way from the top I passed Ewan on his bike, towing his trailer with 70 pounds of stuff. I pulled off to chat. I informed him on what the road ahead had to offer—120 miles of the most boring and dangerous stretch of highway since Ensenada. I offered him a lift to La Paz, where he needed to be by Tuesday. He accepted. He seemed truly glad to be off the road-- no longer with anything to prove-- in a van where he could sip a cold brandy/guava and listen to music. He told me he enjoyed reggae. I told him I had plenty of reggae. "Lee Scratch Perry?" he asked. "The box," I told him. He was grooving. Norman the Gambler "drives a Rambler." He was pleasant company.
We arrived late in La Paz and shared a room at the Yonake Hotel downtown — an affordable, funky place resembling a garage sale in progress. We were both looking forward to a hot shower, the hot water to us being assured. Hot water there was not.
The next day, now having time to kill, Ewan decided to accompany me north, along the coast to a place called Punta el Machudo. The Baja Catch describes the fishing in this area to be, "spectacular with splashes of the old 'unbelievable' thrown in."
We set out on a fine Friday morning, picking up the hitchhiking 12 year old, Richardo, giving him a lift to school in San Juan de la Costa. The paved road gave way to decent dirt road, which after about 30 miles goes up the steep coastal hill of Punta Machudo. And then it goes down. And up. And down. Going down took my breath away. There were a couple instances when having crested the hill, I could look through my windshield and not see the road before me, for it dropped so viciously. Had I been faced with descents like these when coming out of the mountains from San Fransisco de la Sierra, lacking rear brakes like I did, I would be there still or be dead. I was harboring serious doubts as to whether we would be able to return to La Paz the way we came. The van (and the new rear brakes) performed marvelously.
We arrived at a beach as fine as I have ever beheld in the Baja— a half-mile long pebbled beach, bookended by steep arroyo walls with a couple reefs at either end. There were two other camper vans, the occupant of one which, in so many nasty words, suggested we get the #@*&!! outta there, the refined implication being, it was their private Idaho. Like I was about to simply turn back. From the reef, on an orange, sinking jointed-Rapala I immediately caught a lovely six-pound hog snapper—an elusive and wary reef fish, which in my opinion it is the best tasting fish from the sea. That night we had the fish cooked in garlic butter along with a half-kilo of steamed shrimp. It had been a fine day.
Saturday morning before sunrise, I set out my shore-casting rig in the sand with a hook baited with small fish fillets. For the next hour I lost a dozen fish, all breaking my 17-pound-test line. I did, however, managed to land a couple nice triggerfish. Dinner was assured by eight a.m. Ewan fished and snorkeled most of the day. I worked. I took a two-hour snorkel break, my first snorkel of the trip, totally enjoying the "walk through the reef." During the day we slowly met our beachmates. The Obscene One seldom left his camper. Between us, we agreed to leave simultaneously the next day, in case of trouble negotiating the road out.
The next day we organized the wagon train and ambled out. What I learned about the van: any road I can go down, I can go up. It was a piece of cake. I left Ewan in La Paz and I continued on south to San Jose del Cabo, greedily seeking refuge at the Hotel Posada Señor Mañana.
Ignoring advice I commonly give, I drove into the night. Highway 19, via Todos Santos, is a high-quality blacktop traversing high-incidence cow country. Hitting a cow at night is an all-too frequent disaster. Almost everyone I know who has driving experience in this part of the Baja has at some point had to deal with cows that have wandered out onto the highway, most with dire results. I, fortunately, have not. Cresting the hill above Cabo San Lucas from the north, the darkness is peeled away by the multi-colored lights of the Los Cabo coast; a continuous stretch of prime real estate between San Lucas and her little sister city, San Jose. Four lanes. Twenty minutes. Zelda bounding through the front gate. Awaiting ice-cold Pacificos. A hot shower. The end of a long day.