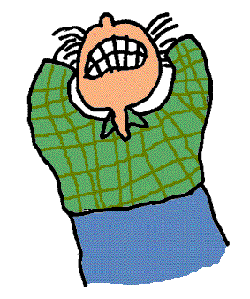 Just that kind of day
The Madison River northwest of West Yellowstone - The precise moment I became aware I had been having a bad day, someone else, 20 miles away, was probably celebrating his good day. He couldn't believe his good fortune at finding a perfectly good fly rod leaning up against a highway signpost in the middle of nowhere along Grayling Creek.
Possibly he believed his luck had changed. Later, in contemplating the evidence, I tried to place the exact moment my luck changed. Thirty-six hours ago it was fine. I had a great campsite on a great-looking river. Overnight it rained and the river turned muddy. Not much of an omen. If this were a movie, the scene of my van parked along a river with the headlights left on would be the clue for the audience that the main character was about to go into a slight slump.
From thereafter: the water in the river was way too cold to take a shower; the salt-water taffy which I made a special effort to bring along was dissolved by the water in the cooler; a strange, irritating, grating, ominous noise began to emanate from somewhere beneath the van; I ran out of transmission fluid; I went fishing on Grayling Creek, lost a couple flies to trees, caught no fish, and lost my fly rod.
When I got to West Yellowstone a half-hour later, I forgot to buy coffee and a roll of toilet paper. I found a seemingly

nice place to spend the night and when positioning the car, the bicycle atop the van hooked an overhanging tree branch, snapping one of the securing straps, almost tearing the bike down. It started to rain. At that point I figured it best to stay where I was, making certain I knew at all times the exact location of my wallet.
What were the chances that three hours later the fly rod would still be there? On a busy highway. Next to a body of water holding trout? In an area filled with people trout fishing, their cars parked helter skelter at every highway turnout? Slim, but while odds can approach zero, they can never actually be zero. If I didn't return to the scene, I might
"I should be thankful that I have only lost a fishing pole at this point, the halfway point. (True, I did almost lose the dog.) I am not prone to losing things. My wallet is about 20 years old, and, of course, looks it. "
possibly miss out on an act of human kindness and I wanted to be someone who believed in goodness of the human spirit. Someone could have found my rod, leaving a note attached to the sign post indicating that the fly rod was in good hands and how to get it back. That is what I would have done, I told myself. But alas, the odds nearing zero had proved inescapable. It was gone. I drove back to my camp and had spaghetti. Read and went to bed.
I should be thankful that I have only lost a fishing pole at this point, the halfway point. (True, I did almost lose the dog.) I am not prone to losing things. My wallet is about 20 years old, and, of course, looks it. I haven't lost a pair of sunglasses in two years. Traveling is when I lose stuff. Things go in and out of the van all the time. Unpack. Pack up. Countless times. My steadfast rule of always walking around the van once before departing would have discovered my fly rod, but I didn't think the rule applied in this case.
Police Log from the High Country Independent Press. July 14-21
- Lisaa L Chhovic was fined $1 for jaywalking
At 11:35 am, a woman who lives in a camper near the Castle Rock Inn reported she saw a maroon station wagon with three bikes on the back stop in front of her camper A male adult in a white t-shirt got out and a female slid into the driver's seat. A boy in a red print shirt tried to run, but was caught and forced back into the vehicle. His hands and feet were tied up, the woman stated. The case was referred to the canyon division.
An employee at Billion Chrysler reported a man was allowed to take a pickup to est drive the previous day. At 1:34 pm the truck had not yet been returned and they want the vehicle back. Deputy was able to locate the man and return the pickup. It appeared there was a miscommunication somewhere.
A strange man showed up at a hot tub party at a residence on Hitching Post Road. Even stranger, the resident, who did not know the man, allowed him to stay and use the hot tub. At 3 am, the strange man disappeared in the house for 5-10 minutes, after which the homeowner found medicine cabinets had been gone through the complainant was having a hard time getting the man to leave at 5:12 am.
A man reported he was punched in the face by a male, only known as Mike, at the Cameron Bridge fishing access at 5:52 pm. They were having a couple drinks and "friendly" conversation when the suspect punched the complainant for no reason. There were no signs of injury and the complainant did not need medical attention.
A raucous volleyball game was told to shut down at 3:29 am at a Buckhorn Trail residence. They were advised to take the party into the house.
A black bear was found eating birdseed in the backyard on an Andesite address near Big Sky.
A brown and white dog rushed at a woman walking on Ross Peak Way. The dog did not bite the complainant.
Report of loud music coming from a residence on Cascade Street at 4 am. Officer could not find anyone at home and determined yes, the music was "extremely" loud. No one answered, and the door was unlocked, so officer shut off the electricity by the breaker, which shut off the music and the light. He then turned the breaker back on, and the music stayed off while the lights went on. The owners were notified the next day of the complaint.
At 9:30 PM report of a male and female on Jefferson Street. A verbal warning was given.
A golden retriever refused to leave a home on Dakota and kept looking through her window. The dog was impounded and the owner cited.
Report of alarm activation at JR's Lounge at 4:10 am. The business appeared to be secure. A moth was located flying around a motion sensor light. It was destroyed.
Rush To Nowhere (Where Are You Safe) update:
No Rush anywhere in the mountains. Hardly any radio at all.
So, I continue on. Sans fly rod. (Any fishing pole manufactures out there who would like me to field test one of their fly rods for a public audience?) I'll check a few pawnshops in Butte. As far as fly rods go, it was hardly exquisite, but in my hands it felt plenty great.