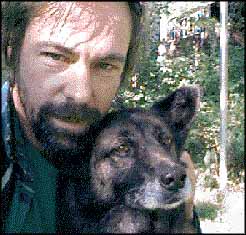 About Peter & Zelda
Peter Kohlsaat is looking for the perfect "job." The job that pays him to get up in the morning, go for a bike ride, do a little fishing, have adventures and see the world. Long-time nationally syndicated cartoonist, illustrator, fisherman, and ex-dentist, he hopes Travels With Zelda will allow him to approach having such a job. Zelda, watchdog, co-pilot, cow-spotter, ex-humane society resident already has the perfect job.
Travels With Zelda is the first of a new generation of cartoons created specially for the Internet. It retains the joy and innocence of the traditional comic strip while adding extra dimensions otherwise unavailable to those of a newspaper or comic book. Travels With Zelda is a travel cartoon. It is done on location, created on a computer and emailed from wherever possible. Peter and Zelda re traveling around America, staying off the Interstates, looking for life's little adventures, seeing what is to be seen , and fishing the fishing holes meant to be fished.
The cartoon consists of several parts. There is the daily cartoon strip to be found at "today's cartoon." From there the viewer can scroll back to see previous strips.
Frames contained by a red border are active. Click in the frame and see where it takes you.
Since the cartoon is done on the road, communication between the artist and the viewer is taken to a new level of importance. The travels take Peter and Zelda to many new, unfamiliar locations where viewer input can be very welcome. Viewers can suggest places to see, burger joints to eat in, obscure local landmarks, fishing holes (the artist goes on record as saying any secret fishing holes will remain secret; under no circumstances will the location be divulged in print, conversation, or by any other means. You have his "fisherman's promise.") In the same sense the artist can inquire as to specifics of an area, hoping to get a response and the needed information.
Travels With Zelda is for all you people out there who love to travel. If you can't travel yourself, we invite you to travel with us. Consider Travels With Zelda your daily postcard from wherever we are. Keep in touch and…wish you were here.