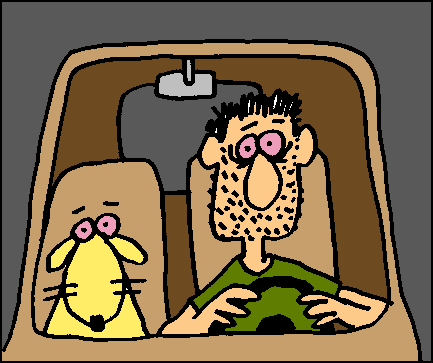 Knowing when
Douglas, North Dakota
-- He was 19 and on the lam. He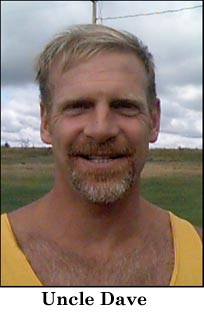 Uncle Dave
had named names. Ratted out his low-down friends. The mid-American, all-American city of Minot, North Dakota, full of crystal meth, was getting too hot for Dale Exeter. He was on his way to the Florida Panhandle.
I was taking him to the Greyhound depot, in Grand Forks, 200 miles away. On the stereo The Foo Fighters drown out the sound of the prairie winds that whipped as we made our way across the North Dakota expanse.
Dale had on his $43 Tommy Boy baseball hat, baggy blue jeans and a gray over-sized sweatshirt with Moorhead State University printed across the front.
He had tucked in his pocket a tight roll of $20 bills from his Uncle Dave- $92 for the bus ticket to Kansas City plus $38 spending money. His hair was neatly trimmed, his face clean-shaven. Most of his possessions had fit into an athletic gym bag, a couple small satchels and a borrowed suitcase, which were stowed in the van, in the back, behind the futon, on top of my Duluth packs. Dale had been living with his aunt and uncle for the last six months, ever since his mom and her partner had moved from Minot to South Carolina, to work out their own problems.
Living with Uncle Dave was perhaps a good thing for young Dale. Uncle Dave, I'm certain, would count himself lucky to be alive today, barely surviving just living life. I had not seen Uncle Dave, a former dental school roommate of mine, for a dozen years.
And while it is not for me to bring to light the past indiscretions of a reformed man, let it be safe to say that on short notice, Uncle Dave could always be counted on to accompany me to the Caboose Bar on a Tuesday or Thursday, two-for-one night, for a beer and a shot of tequila. Today he looks hale and healthy, exceptionally fit, and very sober- sober for nine years.
His cheeks are still rosy and the once bright red beard that the girls adored is now mostly gray. A goatee, actually. With two teenager sons, a wife of 16 years, a house on the lake, a stable of jet skis and a dental practice that has finally hit its stride, Uncle Dave is the picture of contentment. I think maybe it's the creases around his eyes, still sparkling with mischief, that are the only clues remaining of his reckless youth.
In the retelling of his recent affairs, Dale can not shock Uncle Dave. Uncle Dave could probably one up him if it came to that. It is perhaps only to someone other than his father, could Dale be so open, his sins confessed with such abandon, knowing his confessor is unable to pass judgment. Along with Aunt Tammy, Dale has their blessings.
It was a strange and tearful moment as his possessions were loaded into the beat-up yellow van that drove into the driveway, unannounced, less than 18 hours before. Hugs were given all around, like a son leaving for college. In a way, Dale was leaving for some place very much like college. Tomorrow morning he enrolls in Life Part II at The Big Wide World Institute of Higher Learning.
While I drive he talks about becoming a chef, going to the Baja, meeting women, seeing the world, school, the sheer relief of getting out of Minot, which he not done since he was five years old. He tells me of his fears of becoming trapped in a life over which he has no control. I tell him he is on an adventure. And to enjoy it. Savor it. Accumulate tales to tell.
Come to think of it, unlike Uncle Dave, I am not the best guy for an impressionable kid to be locked in a car with, a captive audience to my tales of Mexico, hitchhiking around the world, hopscotching the Caribbean, fishing Montana, thus far surviving on my wits. Maybe the next guy he meets will give him some practical advice Or the next guy. One can be sure there will be a slew of next guys on a bus ride to Pensacola.
I cross the border into Minnesota. It doesn't look like Minnesota yet. It won't until trees start to appear, which they do after four or five miles. Then lakes become obvious, bait shops, their neon-lighted OPEN signs blazing into the twilight and then into the night. US Highway 2 stretches forever in both directions. Trees begin to crowd the road, seeming to arch over the highway, putting me in a tunnel, which after nine hours of driving could easily lead to a feeling of claustrophobia.
Trees everywhere, with the occasional huge lake lapping at the side of the road, tiny lights twinkling on the opposite shore. Friday night.. People in family cabins, playing cards, drinking whiskey, smoking cigarettes, listening to Herb Carneal and John Gordon and the Twins playing the Red Sox, trying to break a six game losing streak, sitting out on the screened-in porch reading cheap trashy novels beneath yellow light bulbs, the waves rhythmically lapping at the shore, leaves making sounds the trees at home are incapable of making. All this time Highway 2 just keeps going.
The dark tunneled highway gives me time to reflect on the visit several hours earlier I had with an past girlfriend. In Red Lake Falls. My first serious girlfriend. I hadn't seen her in 22 years, since college. I called her veterinarian clinic from a pay phone in Crookston. It's strange how someone's voice doesn't change in 22 years. The hour we spent together talking seemed inanely inadequate.
We talked of the last 22 years. It seemed ludicrous that the news of my six-month engagement 17 years ago was somehow current news. Her children were there, occupying themselves with Zelda, who only wanted to curl up on the cool linoleum floor, unusually comfortable at the vet.
Gemma's waist-long hair, to be sure, was no longer to her waist and she seemed a bit smaller than I remembered, and of course, it would be impossible for her to be as innocent and naïve as she had been, (or myself, for that matter.) I would catch myself occasionally trying to picture myself in her husband's place, in Minnesota's outer-most rural fringes, without a doubt as a dentist.
I would have had an airplane. She reminded me how disorganized back then I had been. "Oh, sure, you would have your little pencils and notebook, but you would lose your shoes." I told her I hadn't lost my shoes in a long time. She brought up how I had asked out her chemistry lab partner first and had settled for "what was behind door number two." I told her I thought I had made the right choice. After 22 years I suddenly missed her very much. But my hour was up. It was time to pop back onto the highway and disappear through the same worm hole that allowed me to visit.
It was late. For hours now, there had inconceivably been a steady stream of headlights. Had this been simply another day, like any other day of the last month, the day would be over by now.
The van would be parked next to some water somewhere, I would be on my futon, pulling one or two sleeping bags over my shoulders, up to my chin, the front and side doors open to the night air, preparing to be entertained by wild, vivid dreams and the best sleep imaginable.
But tonight will be totally different. In three hours I will be in my house, in my former bed, the windows and doors will be open, the leaves will be rustling, the blankets will be pulled over my shoulders, up to my chin, 200 yards from Lake Superior. But, oh, it will be so different.
Final Rush To Nowhere (where are you safe) report
From the powerful 1060 AM out of Minot, which seems to reach half of North Dakota, and a quarter of South Dakota, crossing into Minnesota through Grand Forks Rush can be heard via 1360 AM out of Fargo/Moorhead. Since it was night most of the way across northern Minnesota I can only assume he is carried by a host of stations along Hwy 2 until one gets to Duluth, where he is carried by WEBC 560 AM.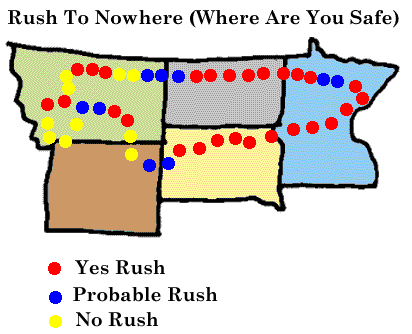 During my month on the road I found that if I could get an AM signal between 11 am and 2pm (EDT) I could usually pick up Rush. It was amazing how frequently I could find him on a delayed broadcast. AM frequencies don't go around corners so mountains offer sanctuary. It is fortunate that there are few, if any, talk-show formatted FM stations, because I could almost always pick up an FM signal. It is a bit discomforting to come to the realization that Rush's diatribes and demagoguery permeate so much of America, and in some cases even Canada. I believe one would be safe in Mexico, once away from the border. Rush Limbaugh/Dr. Laura- the popular one-two punch of talk show radio. The road can be a lonely and scary place.