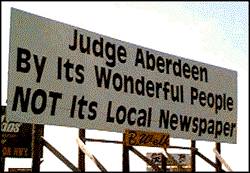 Aberdeen, South Dakota
Zelda goes camping
Richmond Lake State Park, South Dakota -- This is the sign that greets the highway traveler upon entering from the east the city of Aberdeen, South Dakota on US highway 12. The Travels With Zelda investigative team decides to take a closer look.
The Aberdeen American News is a Knight Ridder paper, in its 112th year and how dare the author of the welcoming sign be leery of something so blatantly American!
Let us look at page 1A. First off, there is no picture of Andrew Cunanan. If he is following Travels With Zelda, he now knows Aberdeen to be a potential sanctuary. In fact the newspaper contains no article at all of the Cunanan spree-killing manhunt. Possibly it is being covered by alternative Aberdeen media.
But back to 1A. It is awash with color. TOP OF THE DAY occupies the left page-along side bar. It is very wholesome. The Aberdeen Smittys are playing a double-header at Fossum Field at 5:30.
There is a photo of a beaming Jen DeGroot of Ipswitch, "Meet an Ipswitch sharp shooter. One of SoDak's best free throw shooters.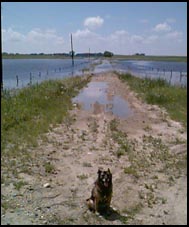 Zelda on the road
Full story on 4B." "Aberdeen teen makes an impact." We can, "Meet Ryan Gerry, on of Aberdeen's finest scholar athletes ever./1B" Another beaming photo. And at the bottom, no beaming photo: "Shaken after shooting. Alley shooting hurts van driver in Aberdeen./5A" (Wanting more information on the frequency of van driver assaults, I went directly to 5A.)
The lead headline is: "DRIVERS STRUGGLE WITH ROADS STILL UNDER WATER. County road washout. Battle goes on between roads, water." Two large photos of water on roads. There is an article, "Citizens protest change in taxes" about a drive to bring a vote on the county's decision to raise taxes. Another: "Christian school group picks board. Group hopes to open high school soon." And at the bottom, "Regulators move into Reagen building" where the article describes the new occupants as, "…regulators, including lot of tree-huggers from the Environmental Protection Agency."
The op-ed page, 4A, features at the top with its title, VIEWPOINTS, the anonymous quote: "The secret of contentment is the realization that life is a gift, not a right."
Just below that is a three panel editorial cartoon involving Don King, in all his glorious hair. There are a couple columns, "Some of the lessons of the Detroit riots still elude us" and "Film's distortion of Clinton's words demeaning"- still another comment on the President's "appearance" in the movie, Contact, where Columnist Grady states, "It's a custom to bar using [the President's] image to advertise used cars, golf balls, pizza. I say, it's worse to switch his words to sell Hollywood space schlock- cheap theft of reality."
The best part of the op-ed page is the feature, Sound Off, along the left side-bar down the length of the page. It is an "opinion poll, not a scientific survey." Today's topic, "If you were an owner of the Aberdeen Pheasants baseball team, what steps would you take to encourage attendance?" Here's a sample of what their readers had to say:
It is a dying sport. Let it go peacefully.
Build a new ball park.
Let kids under 12 in free. Saturday night- Ladies Nite.
Sing, "Take Me Out To the Ball Game."
Sell season tickets.
Change it to a football team.
"It's so boring, maybe nothing will help- free beer might be a plus."
Drop alcohol sales, especially beer sales. (They sell shots?)
Reduce the ticket price.
Pass out free tickets.
"Speed it up. Don't they think people have better things to do? You'd like to go to the game, but you also want to get home to read the paper."
"It takes too long. Be prepared for the next inning. Don't wait and get prepared out there. It takes too long."
And of course, at the bottom - Doonesbury.
And finally, the comics. One page. They include: Beetle Bailey, Wizard of Id, Garfield, Shoe, Hi and Lois, Mary Worth, Andy Capp, Blondie, For Better or Worse, Mark Trail, Judge Parker, Peanuts, Hagar the Horrible, Rex Morgan, MD, and Family Circus. No Dilbert! No Baby Blues? No Tom Tomorrow? No Ted Rall? Rounding out the comics: The Jumble, a 4 minute crossword, Heloise, and Family Doctor- today's probing medical malady: Prolapse of the rectum.
There, you judge.
Rush To Nowhere (Where Are You Safe) update:
WDAY 970 AM, Sisseton, SD- live 11-2 pm cdt.
KKAA 1560 AM "Real Country", Aberdeen, SD- delayed broadcast, 2-5.
So far, there is nowhere west of the Twin Cites driving US 2 to Aberdeen that you can't get Rush Limbaugh.
Travel notes:
Last night camping in Richmond Lake State Recreation Area was glorious. The campground was totally mine. No other campers. The vans doors were now outfitted with mosquito netting, attached to the van by magnets and clothes pins and weighted down with ¼ ounce split-shot sinkers, the 12-volt converter was fixed, allowing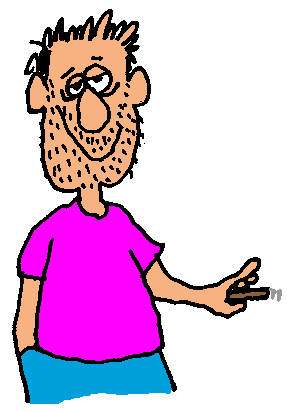 PK
me now to work sans the irritating engine drone (it required simply tightening up the positive battery cable), I set up the hammock, a gentle breeze kept the mosquitoes away, a fine curried-chicken meal was wokked up, fresh green beans, and basmati rice, half-bottle of chilled white table wine. And BEST OF ALL…a most favorable omen. I discovered the box of Havana cigars I thought I had lost returning from Mexico this spring! All this time, they had been in a round, plastic storage container stowed with my miscellaneous camping gear. I opened up the container to put away the salt and pepper, to keep the salt from the humidity and there it was- my all-time favorite cigars! A box of five, individually-wrapped Parata's (note: accent mark) Chicos. In the hammock, the sun setting, Brian Moore's , The Statement, sipping Jack, and smoking a long-thought lost Cuban cigar. Possibly an even swap for the forgotten
tent
.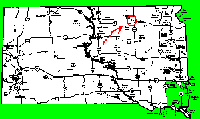 Richmond Lake State Park, South Dakota