Welcome to paradise
Missoula, Montana
-- Going fast. That's t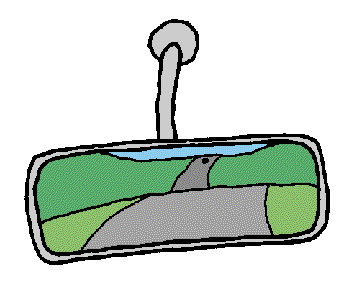 he big issue in Montana. "Reasonable and prudent" is the daytime speed limit. Because the speedometer on the van is disconnected, reasonable and prudent has
necessarily been my speed limit. When coming out of the mountains reasonable and prudent is being in second gear.
Reasonable and prudent is to use the brakes as little as possible, trying to keep the van from shaking itself apart, losing control and falling into an abyss, not to be found for weeks or months.
Reasonable and prudent is to under no circumstances ever allow the engine to accidentally shift into passing gear, severely increasing the chances of blowing up the motor. It is reasonable to always go just fast enough that everyone, except, perhaps, pickup trucks towing horses in trailers, is passing. It is prudent to wait until the big white cloud of smoke that engulfs the van when it is started to clear before driving away.
Montanans drive fast. They have a long way to go. I can look in my rear view mirror and see an empty highway stretching to the horizon, and be surprised by the sound of a car passing me a couple minutes later, seemingly coming out of nowhere. Montana is on a record pace of traffic fatalities, proponents of reasonable and prudent citing alcohol, not wearing seat belts, and hitting grizzly bears at night. (Montanans like to scare tourists with tales of ubiquitous grizzlies.) It seems no one here wears seat belt. No one drives slower at night. No one thinks twice of bar hopping when the bars are 200 miles apart. You have to remember this is Montana, where all laws are accompanied by the paranoia that the government has some ulterior motive.
Fishing Report -
Fishin' Downtown
The public always enjoys a good disaster and a crowd had gathered to rubberneck. The canoe was precariously perched on a 40-foot stretch of concrete which once spanned the Clark Fork River, in downtown Missoula. Zelda sat obediently in the canoe
while John Crawford and I attempted to stabilize it. We were in only two inches of water, but it was flowing rapidly into a five-foot deep pool-- definitely deep enough to make a spectacle. The weight of the water contained in the bottom of the canoe was the only thing keeping it from flying over the concrete. The crowd loved our predicament. I grabbed my fly rod and began to walk along the length of cement, casting into the swirling water. John sensed my intentions and followed the lead. The crowd, who had at first smelled a catastrophe, was now witness to two guys simply fishing. Their amusement soon waned and they continued on their way. Shortly thereafter, John and I bailed the canoe and maneuvered it to safety.
I had always heard that big brown trout could be caught in the Clark Fork where it passed through Missoula. I convinced John to accompany me on a 45-minute fishing jaunt down the river. John is the son of Marj and Jay Crawford, whom I met and am regularly reunited with during the winter months spent in San Jose del Cabo, Baja Mexico (See the Cabo Shore Fishing Report in back issues of the Minnesota SportsPage).
They were my gracious hosts during my stay in Montana's most appealing city. As much fishing as John does, he was unfamiliar with this local stretch of river. It proved to be more than an uneventful float. The Clark Fork flows fast and clear over a series of boulder-induced whitewater as it flows past the University of Montana into the heart of the city. As we drifted, trout were surfacing all around us. We paddled from one side of the river to the other, tossing grasshopper and caddis flies near the banks. Several trout rose to my flies.
John caught and released a ten-inch rainbow. The first set of rapids caught us by surprise, large boulders banging the canoe and water coming in over the bow, setting our beers, wrapped in can coolers, adrift in the sloshing water. A couple other rapids confronted us, lacking protruding boulders but offering serious standing waves.
During our short canoe ride, we took note of the many fine, potential fish-holding pools the river contained along the way. While we caught no more fish, we learned the river. It became more of a scouting mission- appropriate, since the river was named after one of the foremost scouts in all of history, Captain William Clark. Now you know the rest of the story.